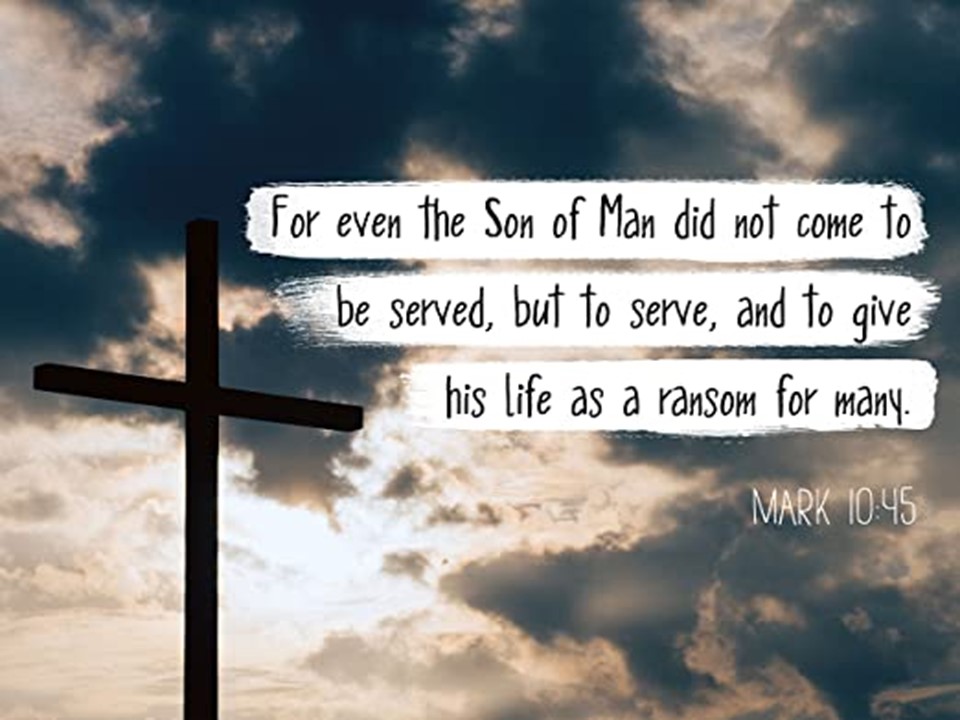 Please click the link below to view the sermon message from this 5th Sunday in Lent.
https://youtu.be/zR5ruoThzjI
Weekly Calendar
Sunday, March 21 – 5th Sun in Lent
Jer. 31:31–34, Psalm 119:9–16
Heb. 5:1–10, Mark 10:(32–34) 35–45
Adult Bible Study / Sunday School 9:00 a.m.
LYF Coffee Fellowship 10:00 am
Worship w/Comm. 10:30 am
Family Game Day & Potluck Following Worship
Grilled Pork Loin Dinner at the Gathering Place 11-1
Monday March 22
Tuesday March 23

Wednesday March 24
Men's 8:00 am
7/8 Gr. Confirmation Class 5:30 pm
Choir Practice 6 pm
Lent Supper 5:30 pm / Lent Worship 7 pm
Thursday March 25

Friday March 26
Confirmand Questioning Night
Elders, Immediate Family and Sponsors Only; David H 6 pm, Carlie S 7 pm
Saturday March 27
GI Habitat for Humanity Build
Rite of Confirmation Service 10:30 a.m.
Immediate Family, Sponsors & Extended Family Only
HLHS Red/Blue Doors Open at 5 p.m.
Sunday, March 28 – Palm Sunday
Zech. 9:9–12, Psalm 118:19–29 or Ps. 31:9–16
Phil. 2:5–11, Mark 14:1—15:47 or Mark 15:1–47 or John 12:20–43
Adult Bible Study / Sunday School 9:00 a.m.
Ladies Aid Cake Reception for Confirmands 10:00 am
Worship w/Comm., and Confirmand Faith Statements 10:30 am

SAVE the DATE.
REMEMBER to Designate your Thrivent Choice $ by March 31
Church CLEAN UP DAY April 3
SS Easter Program 7 pm, Pizza Party/Egg Hunt 4 pm April 3
Easter Sunrise Worship 7 am April 4
Vacation Bible School June 1-4
Our 100th Anniversary Celebration July 10 & 11, 2021
Sunday School Easter Program
On Saturday April 3 the children invite you to join them in celebrating the Easter Season with a program called "Because He Lives" at 7:00 p.m. The children have been working on the program during Sunday School music time. Before the program at 4 pm the children will be treated with an Easter Party (Egg Hunt, Game & Pizza Supper).
LYF Basket Fundraiser
This year, LYF is doing the silent auction basket fundraiser (taking over for the Moses group for a year). Baskets will be available beginning this Wednesday, 3/3 through Easter Sunday. The baskets will be located in the church fellowship hall to bid on between now and Palm Sunday. After Palm Sunday, they will move to The Vault. Winners will be announced/notified on or after Easter Sunday!
HLHS – RED & BLUE GALA
Saturday, March 27, 2021, at Riverside Golf Club in Grand Island: this is the annual fundraising semi-formal dinner-auction for Heartland Lutheran High School. Doors open at 5 p.m., dinner at 6 p.m., live auction at 7 p.m. A limited number of tickets are still available from the HLHS school office, 3900 W. Husker Highway, Grand Island, 308-385-3900, office@heartlandlutheran.org. Silent auction items are available for online bidding (HLHS Facebook page or www.heartlandlutheran.org) starting the week prior on March 20 at 10 a.m., through March 27 at 4 p.m.; they can be viewed in person at HLHS on Thursday, March 25, 5-8 p.m., and Friday, March 26, 1-8 p.m., and Saturday, March 27, 1-4 p.m., where you can also register for prize drawings.
Volunteers – Church Clean Up Day
Saturday, April 3 beginning at 8:00 a.m.
• CLEAN RAIN GUTTERS – MATT IS BRINGING LIFT
• REPAIR DOWN SPOUTS
• RAKE ROCK OFF OF THE GRASS – BRING YOUR OWN RAKE
• MOW THE LAWN
• TRIM TREES AND BUSHES – BRING POLE SAW OR CHAINSAW
• SEAL INTERNET INLET FROM MOISTURE
• TEAR OUT OLD AIR CONDITIONERS
Family Picture Time
Lisa Wright will begin taking our Family photos for the 100 Anniversary Book on Sunday Mornings in the LYF room, from 10 – 10:30 a.m. and after church or by appointment if that is what works best. Lisa Wright will be calling to set up appointment times, we are wanting 100% participation so PLEASE let us do this together and make our book amazing.
** IF you are unable to come for a picture please send the church office a picture of those who live in your household.
100th Anniversary T-Shirt Sales
Place your order TODAY through the church office.
Sample shirts are on display in the church Fellowship Hall, order blanks are located on the table near the Southeast Entrance and attached to this email.
PLEASE NOTE – We are Sorry due to COVID several sizes are currently unavailable. *Mr. B's Tees will let us know when they are available.
We plan on selling these shirts throughout the year, so hopefully by late summer early fall more sizes will be available.
1st order will be placed Monday, April 26th.
Stained-Glass Window Fundraiser
Fundraising for the church stained-glass windows has begun!
We are starting with an opportunity to purchase a pane of the stained-glass design through an envelope donation system. Envelopes with donation suggestions have been placed on the standing bulletin board in the Fellowship Hall. Please take an envelope of the donation desired and place in the offering plate. Some envelopes at the end have no designated amount allowing you to donate a desired amount.
Thanks for your donation to this worthy cause!!
PRAYERS THIS WEEK
Prayers for all those fighting Covid 19
Prayers for Frank Nation, Marcus Nation's father
Prayers for Dan Dibbern, at Madonna Rehab.
Prayers for Pastor Carl Eliason, Peace Lutheran GI following open heart surgery.
Prayers for Len Rathman, recovering following bypass surgery.
Prayers for the Rod Flaugh family, Julie Dibbern's cousin, Rod's wife passed away last week.
Suffering from Cancer
Flora Meester, friend of Catherine Garrett
Cheryl Klock, Julie Whitefoot's Sister
Jeff Bexten, Former member of CLC
Deb Homolka, Rick Gilbert's Sister
Lorie Stahl, Ravenna NE.
Dawnasie Martin, Marcus Nation Sister
Larry Jensen
Cathryn McKown, Bev Gilbert's Sister
ANNIVERSARIES THIS WEEK
3/15/2003 – Troy & Carly Callahan (18)
3/16/2013 – Keith & Sheyanne (8)
3/25/2000 – Jamie & Heather Hadenfeldt (21)
BIRTHDAYS THIS WEEK
3/21 – Rachel Rice
3/21 – Tori Strode
3/22 – Travis Grabowski
3/23 – Rose Bredthauer
3/24 – Ethan Frankforter
3/27 – Lisa Jones
3/27 – Tab Kilzer
Christ Lutheran Church
Cairo, NE

This is the day the LORD has made; let us rejoice and be glad in it.
Psalm 118:24