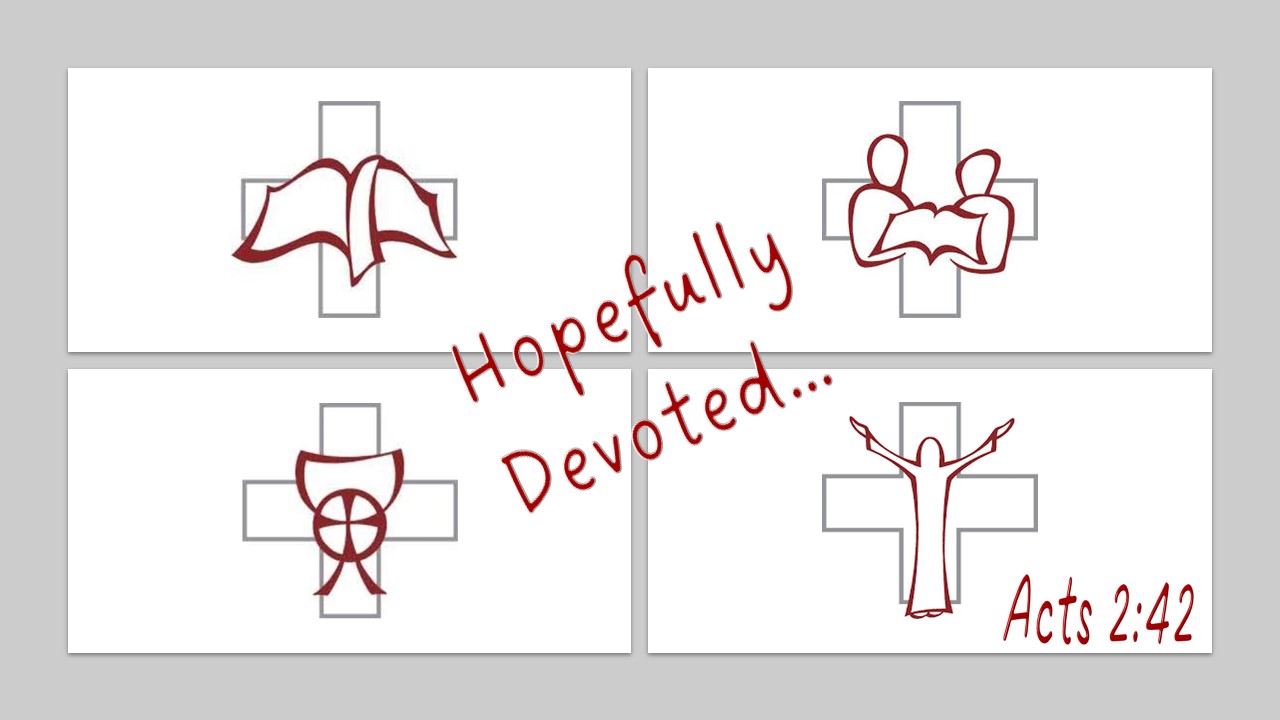 Please click the link below to view the Sermon message from the Fourth Sunday after Easter, Sunday April 30, 2023.
https://youtube.com/live/yhtdaaidgI4
Weekly Calendar
Sunday, April 30 – 4th Sunday of EasterActs 2:42–47, Psalm 231 Peter 2:19–25, John 10:1–10Sunday School / Adult Bible Study 9 :00 a.m.Coffee Fellowship (LYF) 10:00 a.m.Worship w/Communion 10:30 a.m.
Monday May 1
ABC Board Mtg. 6:00 p.m.
All Boards Meeting
6:45 p.m. Devotions; 7 p.m. Individual Boards; 8 p.m. M&M Mtg.
Tuesday May 2
Pastor New Hope Devotions
Wednesday May 3 Men's Bible Study 8:00 a.m.
Women's Bible Study 10:00 a.m.
Thursday May 4
Go Big Give (Remember HLHS, ABC & New Hope)
Pastor Senior Center Devotions
Friday May 5

Saturday May 6
Sunday, May 7 – 5th Sunday of Easter
Acts 6:1–9; 7:2a, 51–60, Psalm 146
1 Peter 2:2–10, John 14:1–14
Adult Bible Study 9 :00 a.m.
Coffee Fellowship (Ladies Aid) 10:00 a.m.
Worship w/Communion 10:30 a.m.
Centura Graduation 2:00 p.m.
ANNIVERSARIES THIS WEEK
Adam & Sara Bierhaus 5/5/2007 (16)
Scott & Jenny Reynolds 5/5/2001 (22)
BIRTHDAYS THIS WEEK
Jace Campbell 4/30
Kelsey Lemburg 4/30
Holden Rasmussen 4/30
Silas Marsh 5/1
Andrea Floth 5/2
Alyssa Teichmeier 5/2
Wyatt Bloomquist 5/3
Cole Callahan 5/5
Garrett Teichmeier 5/5
Christopher Visser 5/5
PRAYERS THIS WEEK FOR:
Karen Plebanek, Troy Callahan's Aunt
Karen Hadenfeldt
Tyron Spatz as he continues to face medical issues.
Chris Wentworth, Maira Ruhter's father
Troy Callahan
Lynda Sundberg
Rick Borquin, Blenda Keylon's fiancé
Joe Ed Diibern recovering from surgery
SUFFERING FROM CANCER
Cheryl Klock, Julie Whitefoot's Sister
Tonya Vincent, Brent Gascho's cousin
David Trebold, Jo Ruhter's cousin colon cancer
Alyssa Teichmeier
Mark Lemburg
SAVE the DATE Vacation Bible School May 30 – June 2Cairo CornStalk Festival June 1068th Regular Convention of LCMS Synod in WI July 29-Aug.3Fall Pastors' Conference Immanuel Columbus Oct 9-10Middle School Youth Gathering Columbus Nov. 4-5District Youth Gathering Kearney NE November 17-19HLHS Red & Blue Gala Saturday March 23, 2024
Sunday School classes will end for the summer, beginning May 7th and will start back up after Labor Day. Watch your Email's for some fun for the kids during the summer break, to keep them reading their bibles.
Mark Your Calendars – Plan to Attend – Invite Your Friends
Vacation Bible School Ready…Set…MOVE!
May 30th – June 2nd / 9:00 am-12:00 pmAges 3 yrs. old – 5th grade welcome!Volunteers Needed – See Taryn WrightWomen's – Tuesday Evening – Bible StudyWill be ending at the end of April.
Christ Lutheran Church
Cairo, NE

This is the day the LORD has made; let us rejoice and be glad in it.
Psalm 118:24